Tsungai Bwerazuva
Champion Farmers Seeds Cooperative Company is a farmer-led enterprise that produces and sells high quality and certified seed of highly-adaptable, high-yielding and drought tolerant varieties of sorghum, groundnuts, maize (hybrid and open pollinated), sugar bean, cowpea and pearl millet – all of which are very important for the food and income security of smallholder farmers in Zimbabwe.
Our company was formed with the aim of improving the access to seeds of predominantly open-pollinated varieties of different crops. Our interest was to support farmers' food nutrition and income security in the face of a changing climate, while also empowering the seed growers economically. The company's choice of crops is based on a thorough scoping study and has been guided by farmers preferences and demand since then. As our mandate is to promote livelihoods, especially of women, we strive to have at least 60% of our contracts with female growers, and 20 percent of contracts with growers who are not yet 35 years old. Naturally, this figure changes every year as our grower base does not remain constant: some growers choose not to grow when the rainfall conditions are very harsh, and new farmers are recruited as needed.
Structure and context
Champion Seeds is currently governed by an Advisory Board composed of nine members. Five of them represent seed growers in each of the five seed production districts, while four are technocrats with industrial experience. Our manager is a seed expert, working with a Finance and Administration Manager and a Marketing Agronomist. Their work is supported by field officers at the district levels (responsible for the production of seeds), a grant accountant and a warehouse clerk. As a social enterprise, it is governed by the Companies Act.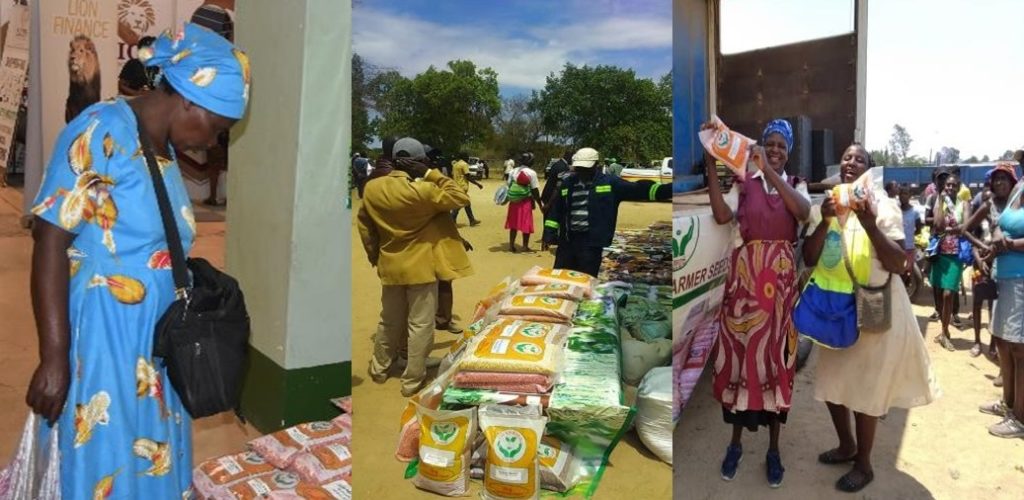 But the seed industry is extremely formalized in Zimbabwe, so all operations are also governed by different legal instruments. This starts with the Seed Act (chapter 19:13), as the umbrella legislation that provides for the entire seed industry. There are also regulations and guidelines in terms of germination and physical purity, as minimum standards for certified seed and for standard grade seed. These regulations also norm the seed packaging and seed treatment processes, as well as the storage conditions under which seed can be housed. It also provides for the registration and licensing of seed sellers.
Production
Our seeds come from 5 districts, 4 of which are part of the Mashonaland East Province and one is found in the Matabeleland Province. Our work focuses mainly on drought-tolerant small grains and on legume crops that are adapted to the area's inherent low soil fertility, high temperatures and low rainfall (below 450 mm per annum). During the 2019-2020 agricultural season, we produced a total of 43 MT of certified seed on 120 ha. (with 88% of this coming from smallholder communal farmers; 52% from Mashonaland East Province and 36% from Matabeleland Province). 55 MT were produced in 2018/2019 season.
Champion Seeds does not have its own research and development unit: it gets all its breeding materials and foundation seed from the government's Crop Breeding Institute (CBI). Different CGIAR centers like CIMMYT, ICRISAT, CIAT or also Harvest plus, work with us and provide germplasm under a Memorandum of Agreement for production and sale.
In collaboration with Agritex, field officers identify and contract certified seed growers in the five districts mentioned. Seed growers have been linked with organizations that supply micro-financing to enable them to access money for inputs as well as crop insurance providers. At present, 7 crops are being grown as certified seed. All are climate-smart, short-season, early to medium maturing crops. There are currently 17 varieties of those seven seed crops. Champion Seeds hires seed processing services from registered plants as it currently does not own its own plant.
Sales and marketing
Since 2016 we have trained and worked with more than one thousand farmers, and helped them develop the necessary skills to produce certified seed. We have seen very positive results: since we started our field operations in 2017, none of our smallholder seed production plots has failed to meet the certification requirements – so it is possible to say that we've had a success rate of 100% in terms of seed production.
But this is a very competitive field. Both the small grains and large grain seed businesses compete against other multinationals, and they also compete against local and government-owned seed companies. Large-scale producers have the substantial capacity to supply the market, affecting our incomes and margins. The interest shown recently by these companies to enter into the small grains market is expected to broaden the competitive landscape with new competitive dynamics. Success will thus depend on the price, but also on the quality of the seed, the availability of our products and the service provided to distributors, retailers and farmers. Champion Seeds is making a concerted effort to become more efficient in all these fronts.
Results so far have been positive: a total of 83 MT of climate smart seed varieties were availed onto the market by 31 December 2019. Small grains constituted 57% of the sales volume, followed by maize (32%) and legumes (11%). The figures at the end of 2020 were larger: 217 MT of climate-smart seed varieties were availed onto the market by 31 December 2020. Ninety percent of this consisted of small grains, while the volume of maize seeds sold came down to 2%.
Our seeds are sold through the community seed banks running under CTDO. These are contracted as seed retailers, as is done with all other seed retailers. The seed banks are issued with consignment stock which they sell and remit payments of seed sold on a monthly basis. At the same time, lead farmers are selling seed in various stores, and different government programs, retailers, hardware seed companies are all seed outlets. During the last two years sales have skewed heavily toward developmental organizations and private seed companies. Most of the seed acquired by the private seed companies has been subsequently distributed to smallholder farmers through various governmental schemes. Humanitarian organizations have also acquired seed, distributing it to vulnerable households as part of their efforts to tackle food insecurity.
Champion Seeds promotes its products through field days and demonstration plots. Every year it sets up plots where farmers follow the traditions and standards of their communities (some of which are part of the diversity plots running as part of Pillar 1 of the SD=HS program). We've set up successful road shows outside the demonstration plots in the field day plots, and also demonstration plots along the road – in many cases working together with AATF, a civil society organization which promotes the production and distribution of seeds. We participate in seed fairs organised by various NGOs in the communities, and we also participate regularly in national exhibitions. We have registered and facilitated the licensing of communal shops to sell seed in various parts of the country. And we also use brochures and branded clothing as a way to increase the visibility and recognition of our brand.
Solutions within a difficult environment
We have shown positive results, but it has not all been roses: we've also faced major challenges in our journey. The first one is probably related to the economic situation in our country. Zimbabwe's economic outlook is very difficult, and there is a general shortage of cash. There are various payment systems working simultaneously (mobile money, actual cash, foreign currencies and Zimbabwean currency), all of which have different values. Access to foreign exchange is difficult, not least because the official exchange rate is considerably lower than the black market rate. There are also very limited credit facilities in Zimbabwe which are suitable for long-term businesses. Champion Seeds has faced cash flow challenges, late payments by government programs and delays in seed toll processing.
On the other hand, climate change is having a very strong impact on rainfed agriculture. There have been three successive drought seasons between 2018 and 2020, and mid-season droughts have severely affected crop yields. Farmers estimate that seed losses have sometimes been more than 40 percent of the planned seed yields for 2018/2019. Climate change has roused interest in seed companies to venture into the small grain seed market, something that will make it even more competitive.
On top of this, COVID-19 has also had a severe impact – whether this is in terms of costs (considering the purchase of protective clothing, or the need to use digital platforms for work during lockdowns), the transport and movement limitations, or the restrictions and general difficulties when organising training programs. Training programs for seed growers have had to be done in smaller groups so as to minimize risks, but this has largely increased the costs.
But we think the future looks good. We recently completed our strategic plan, and we are permanently exploring new opportunities to expand our seed business by introducing new seed lines. Because ours is a very small team, we have been able to read the read the general context, and quickly adapt to a changing environment. We are focusing on a US dollar-denominated market, targeting the civil society organizations with similar objectives while at the same time working to enhance the livelihoods of communal farmers.
Champion Seeds has maintained climate-smart varieties and is planning to increase our offer with new varieties coming in from CIMMYT. In the long term, we plan to invest in our own small seed processing plant. Another priority is to secure alternative sources of finance, especially considering low-cost finance options. We aim to secure grant funds for irrigation facilities in the different smallholder seed plots, and we are permanently looking for opportunities to make this a reality. Commercial farmers with access to irrigation, as well as land that allows for isolation distance for hybrid maize and foundation seed multiplication are now working with us, supporting our program.
Tsungai Bwerazuva works as Seed Expert of Champion Farmer Seeds Cooperative Company, based in Harare, Zimbabwe. Tsungai's work in the seed industry spans over 23 years. She started her career in 1997 as a Research Officer at the Seed Regulatory Authority, Seed Services. Five years later she initiated and managed a private seed company (FSI Seeds), for 6 years. She then joined Agpy Seeds (trading as Chemco Seeds) for another 6 years as the Operations Manager. During that period Tsungai was the seed industry resource person in the drafting on the SADC Seed Harmonisation Laws. In 2018 She joined Champion Farmer Seeds.
E-mail: admin@championseeds.co.zw