This module is part of the Facilitator's field guide for Farmer Field Schools on Participatory Plant Breeding. It is meant to help prepare the Farmer Field School (FFS) site and the plots of land on which we will do the fieldwork and testing of lines for the next season. The way we design the plots and allocate each of the lines that we sow should minimize the risk of distortion of the experimental results, by factors such as slope, fertility gradients or other irregularities.
In this module, we design plots for Participatory Varietal Selection (PVS). In PVS we test stable and advanced lines provided by Breeding Institutes. Often, Breeding Institutes collect farmers' varieties from other provinces or countries. While these are farmers' varieties, the source when received by an FFS remains the Breeding Institute. In PVS, the one or two most popular and best performing varieties currently cultivated in the village shall be used as 'control' or 'check' varieties. This is to compare the new lines (received from the Breeding Institutes) and evaluate these to the standards of the popular varieties.
Completed in 2018, this module was written and developed by the Sowing Diversity=Harvesting Security program team, based on Farmer Field School trainings supported by CTDT, Zimbabwe, Asociación ANDES, Peru and
SEARICE, Southeast Asia. It is based on Farmer Field School training experience in Zimbabwe, Peru, Myanmar, Lao P.D.R. and Vietnam. All illustrations are from Irene Cécile, www.irenececile.com.
Facilitators' Field Guide for Farmer Field Schools on Participatory Plant Breeding
Module: Plot design for Participatory Varietal Selection (PVS) research plots. 2018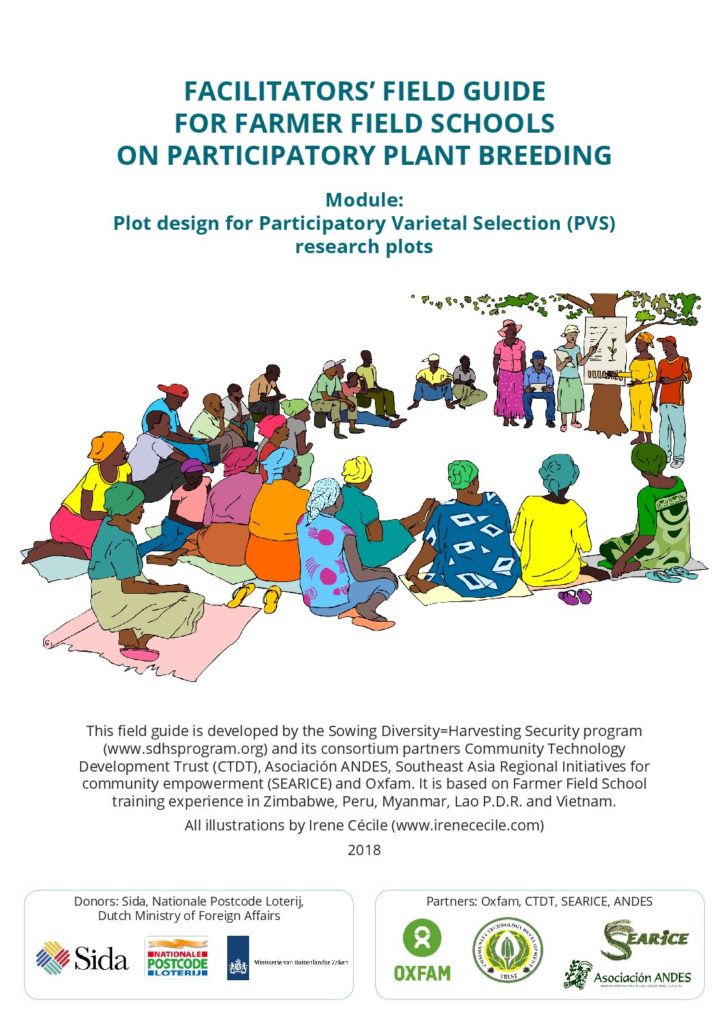 Facilitators' Field Guide for FFS on Participatory Plant Breeding:
Plot design for PVS research plots