Joseph Mwitumwa is a Seed Production and Marketing Officer with Community Technology Development Trust (CTDT) Zambia. Together with six colleagues from different countries, he participated in the Smallholder Engagement in Seed Systems course held at Wageningen University and developed in partnership with the Norwegian University of Life Sciences, the Production Ecology & Resource Conservation and Oxfam Novib through the Sowing Diversity=Harvesting Security program (SD=HS).
"I did not enjoy the capitalist environment of the private sector where it's all about profit."
Growing up on a farm, it's no surprise that farming became the career path for Joseph Mwitumwa. After studying agriculture in university, he worked for an agricultural input company and a seed company. However, Joseph found the profit-driven environment of the private sector to be unfulfilling and decided to move to the NGO sector, where he headed the production department at the Total Landcare initiative. This large program working smallholder productivity was funded by IFAD and covered a large portion of northern Zambia. Shortly after the program ended, our interviewee joined CTDT Zambia and SD=HS, where he has been working for two years.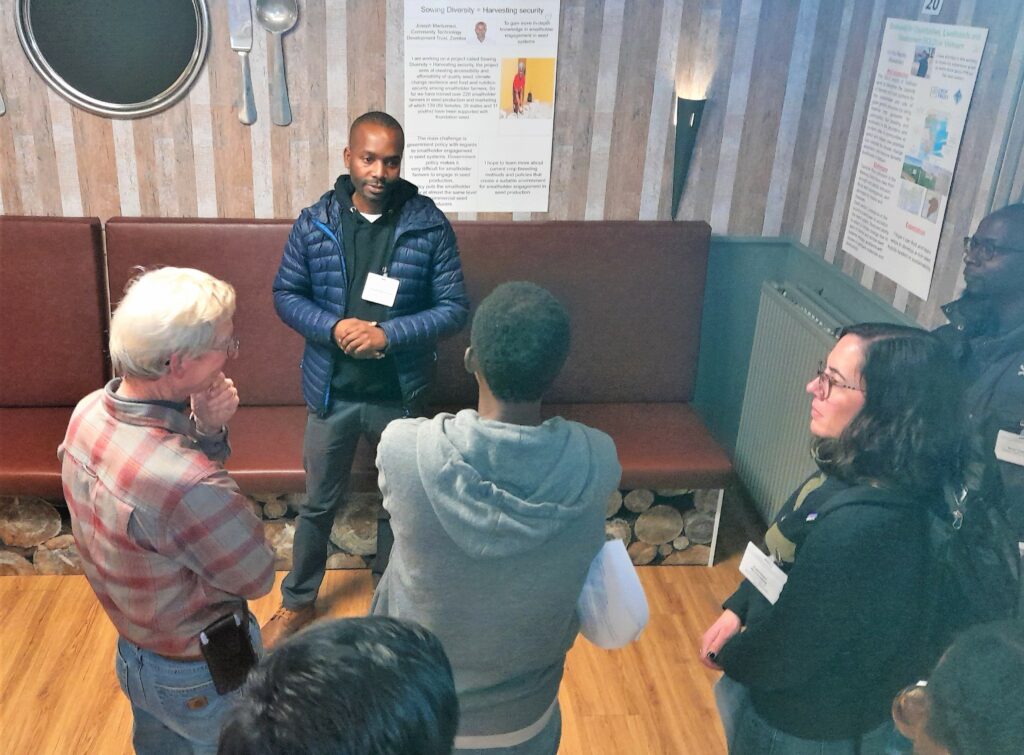 "I appreciate the social science emphasis the course took. It shows the complexity of seed systems, we should not just look at it from the technical aspect but take into consideration the social aspects."
Joseph described the course as an eye-opener, especially the focus on social aspects of seed production. This has made him think about the need for a more inclusive and comprehensive approach in the SD=HS project, particularly in the seed production and marketing work. For example, revisiting the crop selection process by not relying only on market survey and what is on demand. The decision of what crops farmers will focus on is done on a commercial basis which might not meet the needs of farmers nor of the project. After the course, Joseph feels motivated to strive to be more comprehensive and include additional social aspects into the crop selection exercise.
"The group's perception and the practicality on the ground are two different things."
Mwitumwa found the input and perspectives from his academic colleagues on the cases relevant, particularly with regards to the decrease in attendance from women who need to juggle many other household responsibilities. He also recalls pertinent suggestions for influencing government to recognize local varieties. However, on other occasions, the gap between theory and practice became apparent. For example, theoretically it makes sense to imagine farmers growing a new seed variety all together on one large plot of land. In practice, this does not work because of the simple group dynamic reasons. Some farmers are able to work on the land more frequently than others, this leads to potential disagreements when it comes to commercialization. Farmers produce their seeds separately and then they do the marketing collectively. Our interviewee hopes the group will remember the practicality of working on the ground and the realization that group dynamics often play a role in the success or failure of certain initiatives.
"This has influenced me, I've even taken a different path in my career as I'm doing my masters now and I'm developing my research proposal to focus more on social approach methodologies of data collection"
Finally, the course has had a profound impact on Joseph, He has adjusted his research methods for his master studies to include social sciences. In that respect, a phrase from a professor remains with him: Social scientists should be called scientists. Mwitumwa believes that such interventions are beneficial for a project like SD=HS and should be replicated.
"Such kind of interventions should be replicated, exchanges to share knowledge and experiences between different actors in this field."