The 17 Sustainable Development Goals (SDGs) and Agenda 2030 adopted by the global community in September 2015 are applicable to all countries with the commitment "that no one is left behind." As an agenda for "people, planet, prosperity, peace and partnership", Agenda 2030 provides a vision for people and planet-centered, human rights-based, and gender-sensitive sustainable development. It promises "more peaceful and inclusive societies" which are free from fear and violence.
Small scale farmers and agricultural biodiversity are critical to the achievement of aspects of most of the SDGs. In addition to being essential for the resilience and stability of agricultural production systems and our ability to adapt to climate change and other stressors; agricultural biodiversity is fundamental to the livelihoods, health and nutrition of billions Despite its importance to the health of both people and the planet, this broad understanding of what agricultural biological diversity is and the critical role played by its custodians, gets no explicit mention in the SDGs. In fact, awareness of this is low outside specialized institutions and agreements and explicit mention of both is rare in the context of sustainable development.
Published by the San Diego International Law Journal, this Article by Susan Bragdon uses the example of small-scale farmers and agricultural biodiversity to illustrate how they are the living links amongst the SDGs as well as being critical components in their achievement and to the vision of Agenda 2030.
Recommended Citation
Susan H. Bragdon, Living Links Connecting the United Nations Sustainable Development Goals: Small-Scale Farmers and Agricultural Biodiversity, 21 San Diego Int'l L.J. 155 (2019)
Available at: https://digital.sandiego.edu/ilj/vol21/iss1/6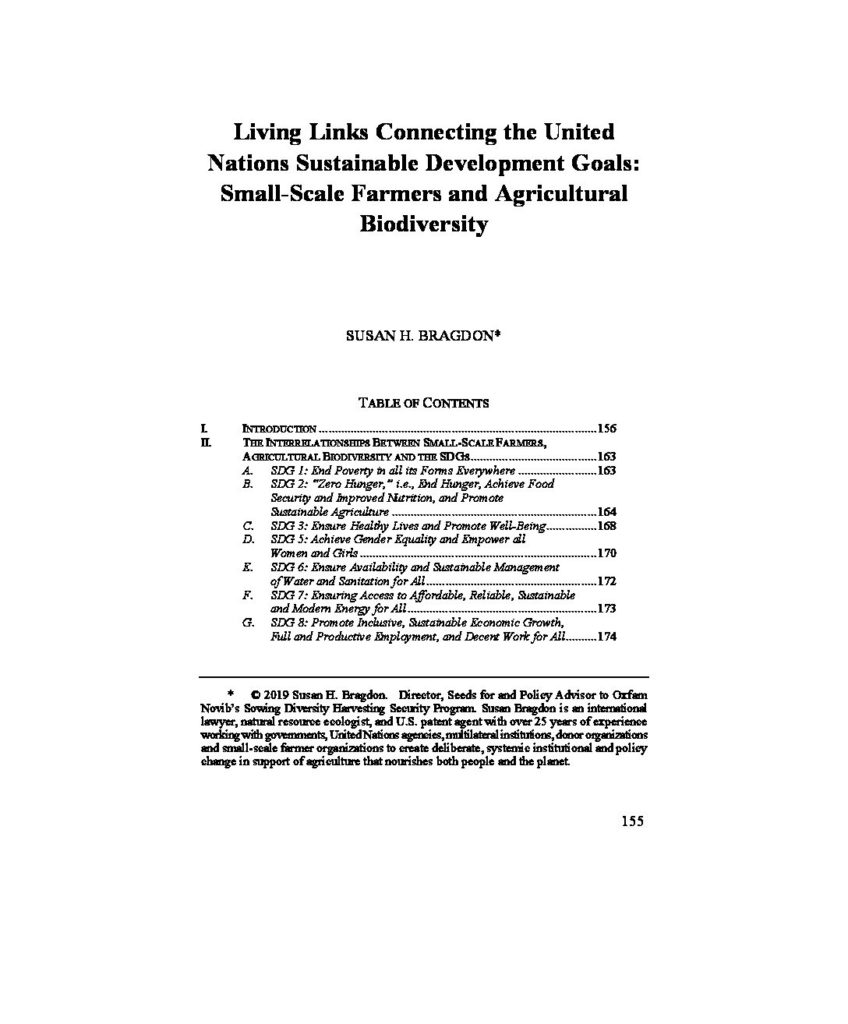 Living Links Connecting the United Nations Sustainable Development Goals: Small-Scale Farmers and Agricultural Biodiversity