By Angel Villavicencio, Saúl Povez (Fovida) and Ana Lucía Núñez (Oxfam in Peru)
Evidence from around the world shows that, in countries with significant gender gaps, women are the most affected during and after disasters. Despite the magnitude of the impacts of the climate crisis, women have developed adaptation and resilience strategies that should be supported by the national legislative framework and differentiated policies. According to the latest FAO report (2022)* , globally and in all regions, the prevalence of food insecurity is higher among women than among men. In Latin America, every year, more women face disparity in food insecurity conditions, as the gap increased from 4.1% in 2014 to 11.3% in 2021.
Faced with this scenario, we organized the first meeting of Andean and Amazonian climate spokeswomen, which took place in Huancayo, Junín, and brought together 39 rural, peasant and indigenous women leaders and representatives of 16 organizations and agricultural unions of the country* to make a public statement and advance proposals for climate change with an intercultural and gender approach.
The meeting began with a presentation by Norma Canales, representative of the National Committee of Women and Climate Change (CONAMUCC), who gave a chronological overview of the process of combating climate change and the incorporation of gender equality in climate action at the global level. She also emphasized the differentiated impacts of climate change in the territories and called for the promotion of mechanisms that promote participation of women and their contributions on adaptation and mitigation actions with a gender perspective.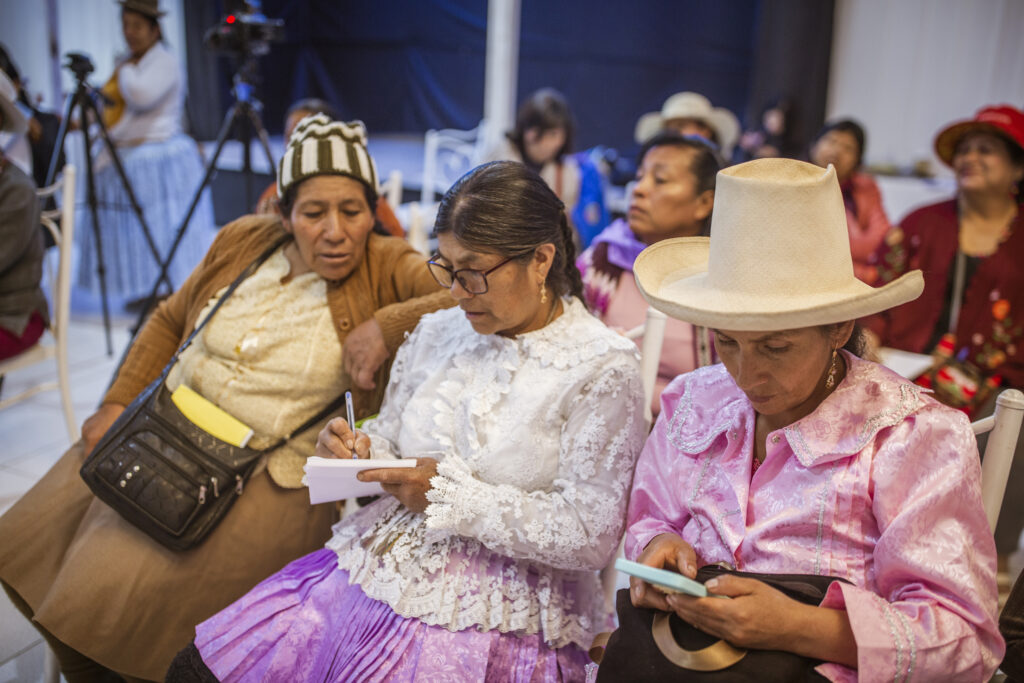 Along the same lines, Beatriz Salazar, from the Peruvian Center for Social Studies (CEPES), pointed out that women are more vulnerable to climate change due to economic, political and social disadvantages; she also presented data from the latest National Agricultural Census (CENAGRO, 2012), which shows these gaps in: agricultural production, access to land and water, training, technical assistance, financing, participation in water management, among others.
As part of the panel, Ángel Villavicencio, a specialist from Fomento de la Vida – FOVIDA, reflected on the contributions of agroecology to the country's development and the multiple roles of women as guardians of native and local seeds. Jessica Huertas and Luis Céspedes, representatives of the Ministry of the Environment (MINAM), analyzed the regulatory framework from a gender perspective and from the perspective of risk management and adaptation to climate change, respectively, with special emphasis on intersectionality as a key element to recognize the differentiated impacts of climate change that should be reflected in public policies.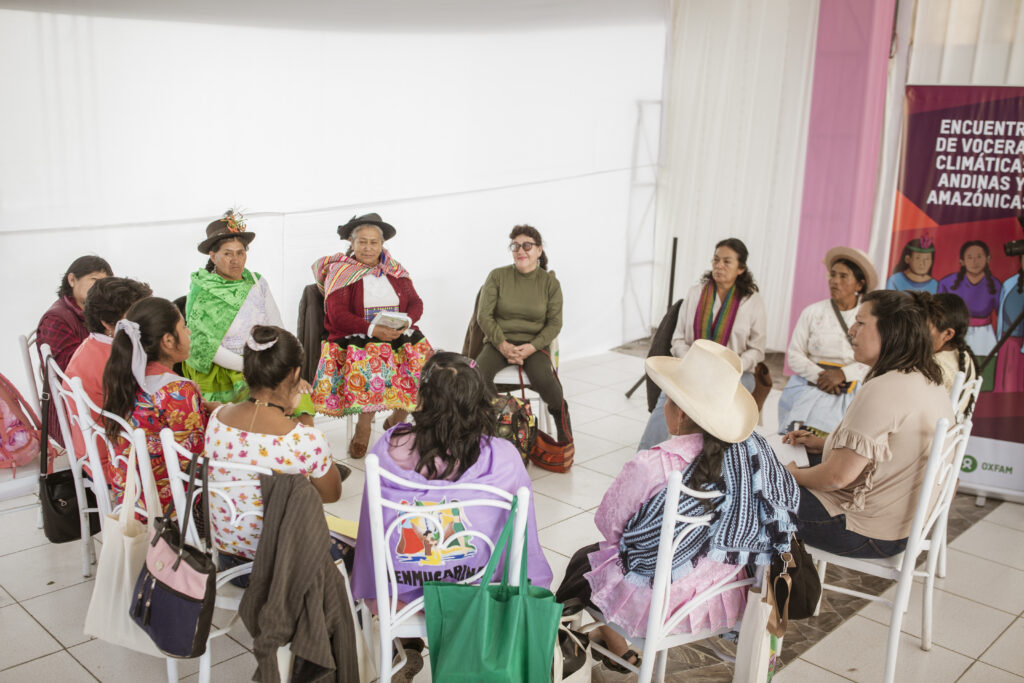 In a second part, after a day of joint work, the representatives and leaders of the agricultural unions signed a statement, their proposals were addressed to their agricultural unions and communities, civil society organizations and allies but mainly to the State. Some of these proposals are summarized below: to recognize, make explicit and reflect on the unequal distribution of time in care and productive work; to promote the effective participation of women in decision-making and negotiation spaces on climate issues at the community, local, regional, national and international levels; to continue to provide spaces for women's participation in decision-making and negotiation on climate issues at the community, local, regional, national and international levels; that meeting and networking spaces continue to be created for the construction of a common proposal for the agricultural sector and rural development, that Andean and Amazonian women have more access to resources such as land and water, that the State guarantee their access to training and that this be decentralized, that the annual public budget provide them with access to regular funding and technical assistance, among others.
These proposals and will be presented mainly to MINAM, the Ministry of Women and Vulnerable Populations (MIMP) and the Ministry of Development and Irrigation (MIDAGRI), in the framework of the so-called Second Agrarian Reform that is promoted by the government, which from its launch claimed to have a "woman's face", and in a context of agri-food and climate crisis.
For more details on the multiple roles of women farmers, we share the story of a climate spokeswoman: Lucinda Quispeayala, leader of the National Agrarian Confederation and of the Junin Agrarian Leaders Steering Group.
*FAO, IFAD, WHO, WFP and UNICEF. 2022. Abridged version of The State of Food Security and Nutrition in the World 2022. Adapting food and agricultural policies to make healthy diets more affordable. Rome, FAO.
**The participants were leaders of the following organizations and agricultural unions: FENMUCARINAP, CONVEAGRO, CCP, CNA, Regional Agrarian Fereration of Junín- FAREJ, Central Regional Organization of Rural Women Yachaq Mama (CRYM) – CCP, AGUAPAN, CHIRAPAQ, FECONAYA, ADECAP, AIRPIAM, C.C. UÑAS, FUNDAGRO PERÚ, COPEAPI, communities of San Martín, among others.
Angel Villavicencio, FOVIDA Representative
Saúl Povez, FOVIDA
Ana Lucía Núñez, Food Justice Project Officer at Oxfam Peru