Sahadev KC, SD=HS program officer, LI-BIRD
Background
The national seed system of Nepal receives many new varieties of different crops from Nepal Agricultural Research Council (NARC). However, during the whole process of crop varietal development farmers, who are ultimate users of the new varieties are rarely involved in the research and development. Therefore, many new varieties developed by the NARC are rarely adopted by the farmers due to the failure in fulfilling their requirements and preferences. It consequently results in a waste of efforts, it usually requires almost 12 to 15 years for a single crop variety development through a conventional approach, and consequently loss of resources investment.
Farmers engagement in crop research and development has long been advocated to prioritize their concerns at the earliest stage of varietal research and development. Participatory Plant Breeding (PPB) tool is not quite new to Nepal, as a few varieties of different crops have developed, such as Gulmi-2 and Resugna Composite of Maize, Pokhereli Jethobudho and Macchapuchhre-3 of Rice, Hariyo Ramechap Latte of Amaranth. These varieties are popular because of their attributes meeting farmers' needs. Some forms of PPB approaches are used by the national research and extension system however, it is yet to be internalized to the scale as required.
Farmer Field Schools on Participatory Plant Breeding (FFS on PPB)
LI-BIRD is piloting a FFS on PPB through Sowing Diversity=Harvesting Security (SD=HS) project in Nepal. This pilot is popular, and the farmer field school approach is well internalized by the government of Nepal. FFS on PPB uses the approach established by FAO where a group of farmers (25 to 30 members) work on issues or concerns jointly identified by its members through participatory action learning tools. In FFS on PPB, farmers also identify how a crop is crucial to their food and nutrition security.
The FFS group further discuss the major issues and concerns of the existing seeds and their future needs. The group then defines major traits of the selected crop that matches their interests, often referred as breeding objectives. Based on their needs, farmers can choose 3 paths:
– Improve existing varieties (Participatory Varietal Enhancement), or
– Evaluated new seeds received from research centers (Participatory Varietal Selection), or
– Work to bring certain traits to existing or new seeds through hybridization/crossing (Participatory Varietal Development).
FFS perform season-long field school in the selected crop/varieties. At the end of the season, farmers evaluate if they have found the desired crop variety or not. The process continues for a few seasons, until they are satisfied with the outcomes. The process capacitates farmers make an informed decision to choose a crop variety that matches their current needs in the changing climatic conditions. Farmers in Kailali, Kanchanpur, Doti and Dadeldhura districts currently practice FFS in Nepal. The SD=HS project has established a total of 117 FFS on PPB in rice, wheat, soybean, potato and garlic.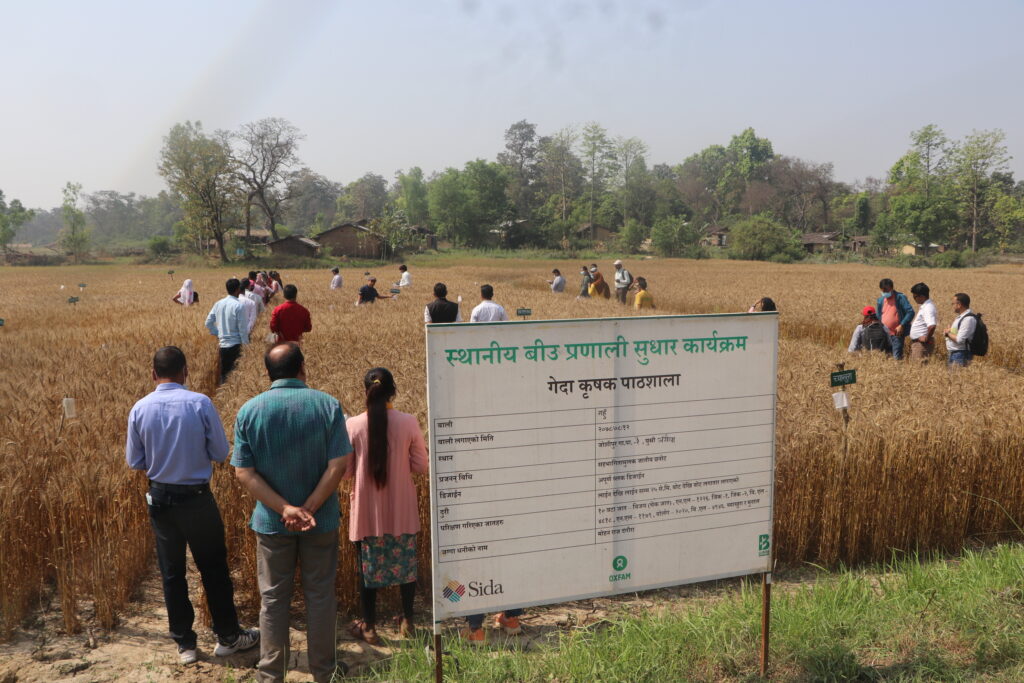 After three years of piloting the approach, LI-BIRD has drawn lessons from FFS on PPB: farmers can take the lead and work in participatory approaches to jointly identify their preferences and needs of crop varieties with minimal technical support. The curriculum of the FFS on PPB could easily be adapted to the FFS approaches used by the government. In technical collaboration of the SD=HS, a few of the Agriculture Knowledge centers (AKCs) and municipalities have started to pilot the FFS on PPB approach. LI-BIRD jointly with AKC Kailali, organized a Traveling seminar in Kailali to share the concept and methodology of FFS on PPB approach. Through this seminar, the project aims to embed this approach in the government's program priorities and ensure sufficient budget to establish FFS on PPB that caters to farmers' needs.
Demonstration and sharing of FFS on PPB results by farmers
LI-BIRD briefed participants about the program, its achievement and the relevance of the FFS on PPB for the Sudurpaschim Province before proceeding to the field visit and interaction with farmers in the sites. Ghenda FFS and Sahanshilata FFS farmers shared their results of ongoing evaluation of 10 wheat varieties selection. FFS facilitator shared the FFS on PPB methodology and process, such as defining their breeding objectives, agro-ecosystem system analysis, ranking of different wheat varieties and their future plans to link the outcomes to the seed production, either through their community seed bank or by requesting for additional seeds for further seed production.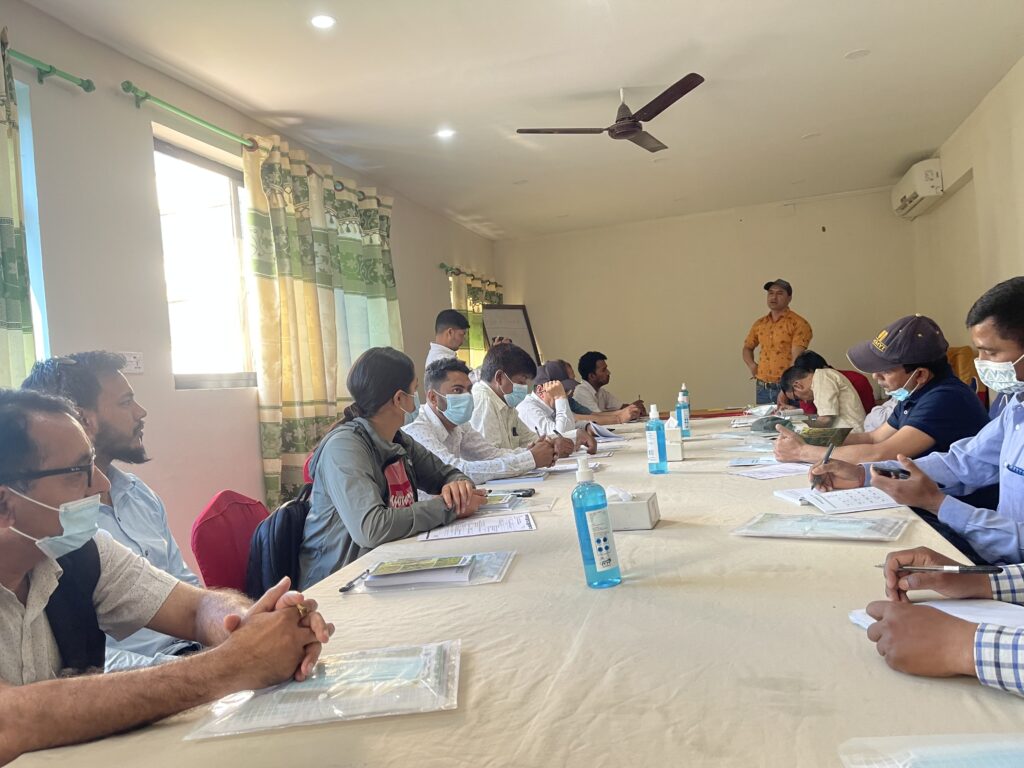 The participants also visited Deuna Bebari Cooperative in Ramnagar Joshipur and its facilities like the varietal demonstration blocks, its collection of several local landraces, its seed production activity and seed storage house. The Community Seed Bank engages with FFSs conducted in its vicinity and links the rice and wheat's promising varieties, identified by the FFS, to their annual seed production plan.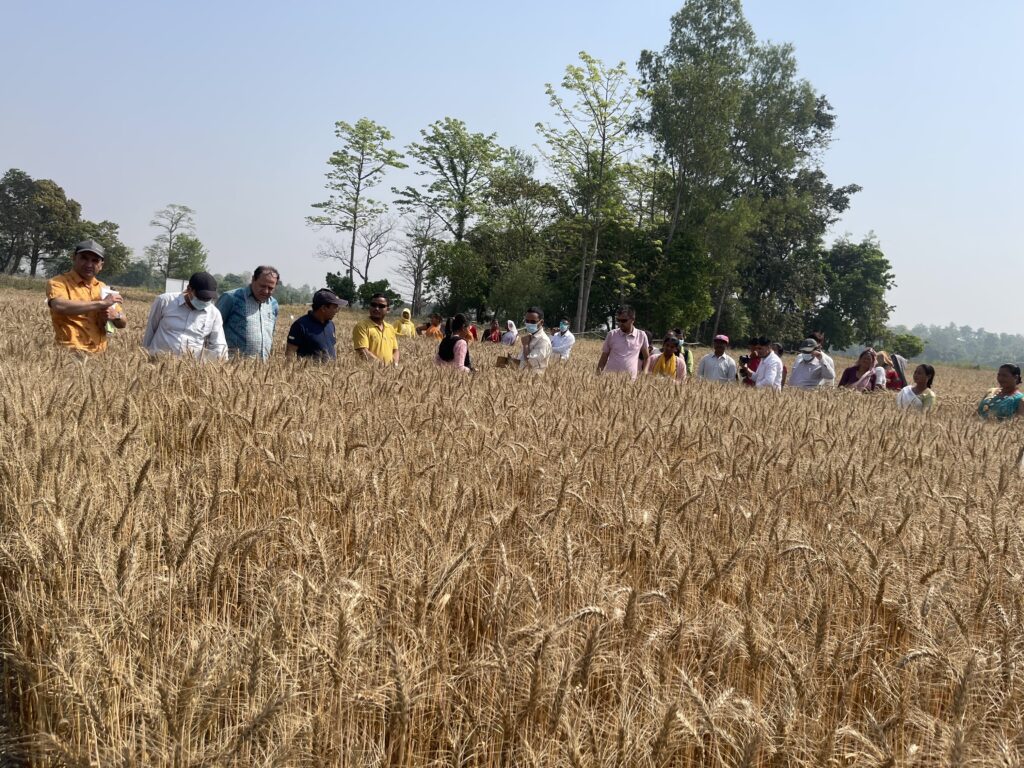 This event was helpful to impart the striking differences of farmers preferences of Wheat crop varieties in similar climatic conditions with varying niche agro-ecological conditions. The two FFS had selected different wheat's promising lines/varieties. For one FFS, Zinc Gahu -2 and BL 4946 were preferred whereas the other prioritized BL 4818 and BL 4669 of wheat crop.
This shows that farmers can have varying preferences and blanket approach of varietal recommendation based on agro-ecological domain might not capture the farmers needs on crop varieties. Participatory approaches help the farmers to identify the varieties that responds to their concerns. The participants of the events expressed the importance of FFS on PPB and the need to mainstream it in crop research and extension.
Field visit reflections and interaction with farmers and stakeholders
Dr. Madan Singh Dhami, Secretory of Land Management, Agriculture and Cooperatives Ministry, Sudurpaschim Province said "this approach of FFS on PPB needs to be replicated in wider level as well as in other staple crops. This helps farmers to get varieties with desired trait suitable to their local soil and environment, fulfilling their real needs". In addition, Prof. Dr. Lal Prasad Amgain, Dean, Far Western University, acknowledged the FFS farmers as they are leading in the selection of varieties of wheat in their own field. He further announced that he will make another visit in the FFS with his students to gather field level experience.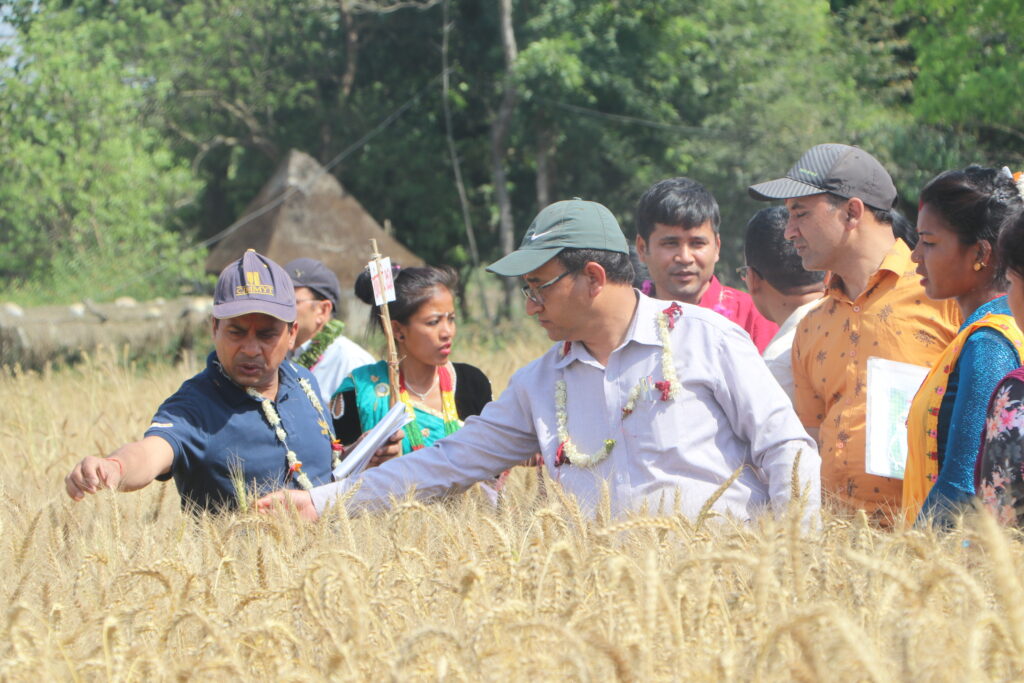 Mr. Rajendra Yadav, wheat breeder from National Wheat Research Program emphasized the importance of engaging farmers in such participatory plant breeding trials for the selection of location specific varieties and for needs to be captured by the national research systems. Similarly, Mr Mathura Yadav said, "I am impressed by the farmers efforts, their leadership to take up lead in FFS on PPB for selecting preferred varieties and coordinate with AKCs of Sudurpaschim Province to support establishing FFS on PPB technically and providing access to promising germplasm of different crops".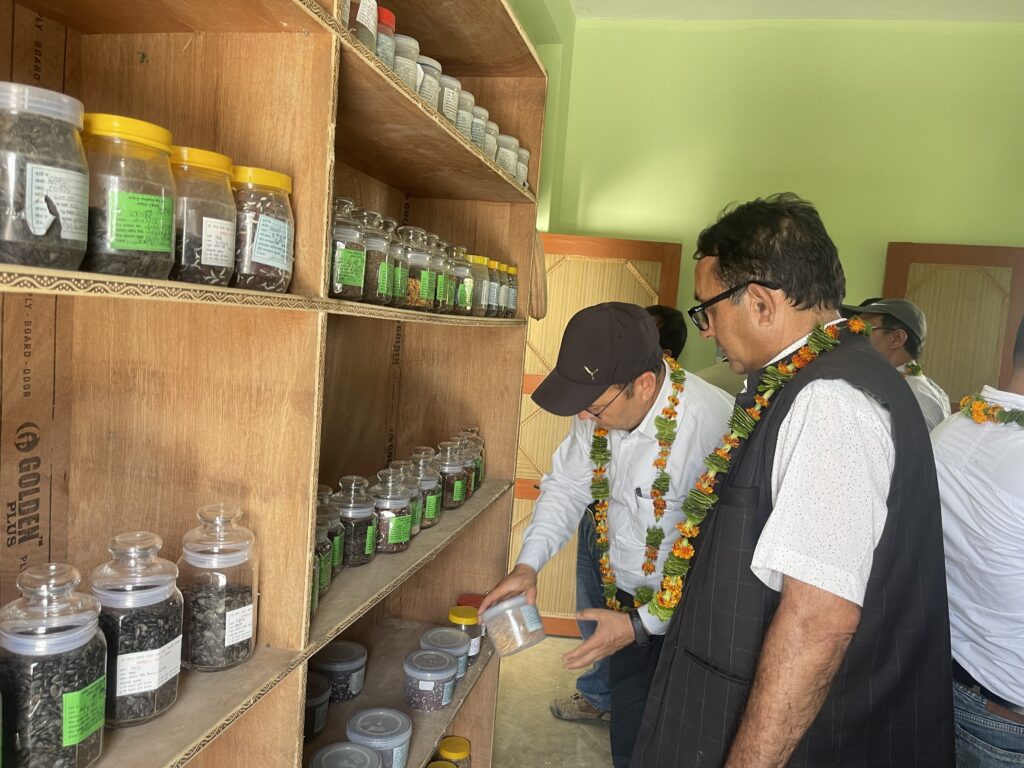 Tika Thapa, (Chief of Agriculture Business promotion support and training center, Sundarpur), said, "We will develop a curriculum and conduct Training of Trainers for FFS on PPB for the technical staffs of AKCs, leading farmers together with LI-BIRD". The process is now moving ahead for joint effort among the training center and LIBIRD.
Start of the journey for institutionalization of FFS on PPB
At the end of travelling seminar day, participants felt the need to mainstream FFS on PPB to strengthen the national seed system. This will help to increase the adoption of the newly released varieties by agriculture scientists and research institutes. Many stakeholders including government officials are ready to initiate and strengthen this approach through the province agriculture ministry, Agriculture Knowledge Center, and Municipalities in joint effort.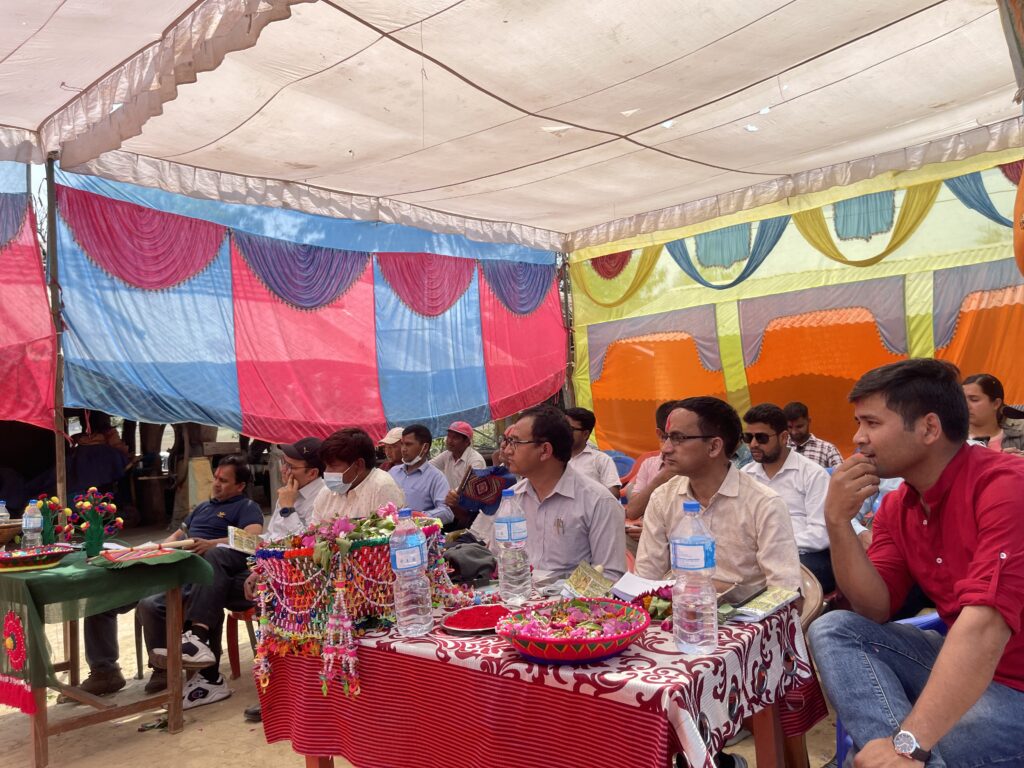 SD=HS will work closely with Agriculture Business Promotion Support and Training Center to co-develop a curriculum of FFS on PPB and provide technical support in providing training to the AKCs and Municipalities for establishing FFS on PPB in coming years. Similarly, it will engage with NARC and MoLMAC, Sudurpascahim Province to ensure their engagement and commitment to allocate sufficient budget and assurance of implementation of FFS on PPB in the province.
Sahadev KC is the SD=HS program officer at LI-BIRD's site Office in Masuriya, Kailali.