By Eco Matser, Project Lead SD=HS
Community seed banks play an important role in the SD=HS program approach to safeguard the genetic diversity of local crops and increase community food and nutrition security. They provide farmers with a safe storage for seeds as well as a source for seed that disappeared in the community. The Community seed banks (CSBs) also play a role as centers of distribution of seed for farmers participating in seed production and for aggregating harvests for marketing purposes. In many locations we see that they are the centers around which all activities on revolve.
Books 4 Life has chosen to support Community Seeds Bank through the SD=HS program. Books 4 Life (B4L) is a Dutch organization that sells second hand books in the Netherlands. Volunteers run the shops and revenues are used to support local projects that empower communities. Through Oxfam Novib, B4L supports our partner in Uganda, Participatory Ecological Land Use Management (PELUM), a network of civil society organisations. With this funding, Pelum was able to support the improvement of Community Seed Banks in Erussi sub-county, Nebbi district (Western Nile region), Lalogi sub-county, Omoro district (Northern region) and Katine sub-county, Soroti district (Eastern region).
B4L also supported a cross learning visit between Zimbabwe, Uganda and Zambia to share experiences and best practices on community seed banking and to promote the exchange of knowledge among SD=HS partners and host farmers, with the aim to improve management and operations of community seedbanks. The cross-learning visit was organized in Zimbabwe primarily for SD=HS partners and master trainers from Uganda, Zambia and Northlands, Zimbabwe. I was privileged to join this group from the Netherlands. Here are my main take ways from the first trip as the SD=HS project lead.
Restoring crop diversity in Chomazumba
On the first day, the group visited farmers in Chomazumba, looking at their experience with participatory plant breeding, focusing on Participatory Variety Enhancement and Participatory Variety Selection. Farmers shared how they collect, characterize germplasm, how they use the diversity wheel and how they restore lost diversity within their communities. By discussing the seeds diversity wheel it was evident that the communities around had lost a significant number of crop varieties however through the use of the farmer field school methodology and the community seed banking approach, farmers are slowly restoring these lost crops. The learning visit also included a small seed diversity fair/exhibition and a tour of the Chomazuba community seed bank. Farmers showcased the diversity of germplasm and other planting materials from their respective communities and the seed bank management committee, farmers and CTDT Zimbabwe staff provided an in-depth explanation of the operations and management of the seed bank. For me, seeing the efforts to restore lost crops by the community really brought to life the essence of the SD=HS work, which is to support communities build resilience and improve their food and nutrition security.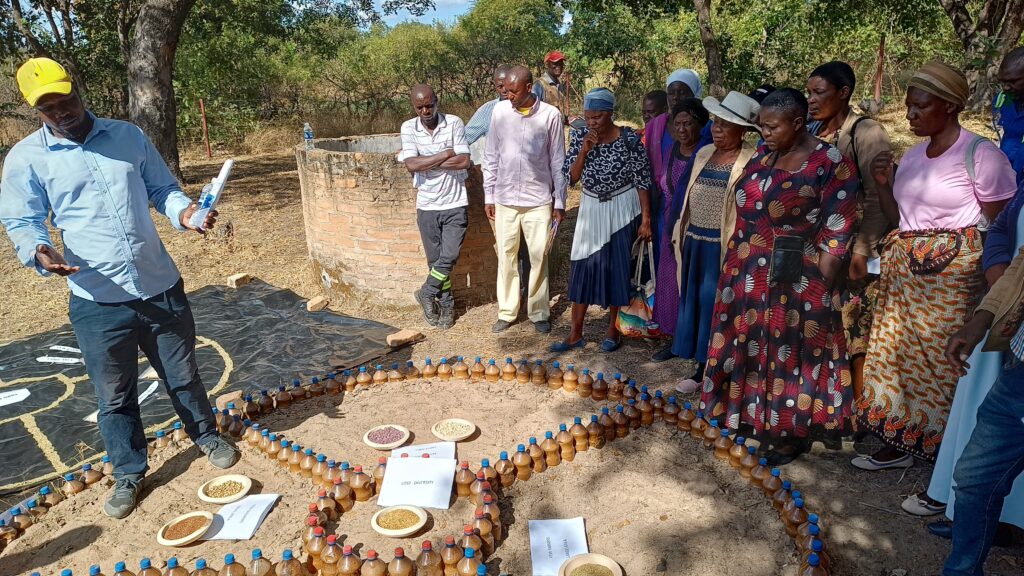 Crucial partnerships with the Ministry of agriculture and national gene bank
Back in the capital, the group went to visit some of the key partners of CTDT Zimbabwe. It was inspiring and rewarding to see the solid partnership and cooperation between farmer communities, CTDT Zimbabwe and the government's agriculture institutes. This also includes collaboration with the breeders from the National Agriculture Research Institutes. They have worked closely with farmer field schools through participatory variety selection to test the different varieties before their official release. This has enabled breeder to develop varieties in line with farmers preferences. In addition, CTDT enjoys a good working relationship with the national gene bank, which is key when aligning farmer's seed preferences and tackling agrobiodiversity restoration. The gene bank offers training to farmer field schools and conducts joint germplasm collection and characterization efforts. It was impressive to understand the relevance of the community seed banks not only locally for the farmers themselves but also at national level to preserve and be able to provide better seeds to other parts of the country or even in the region.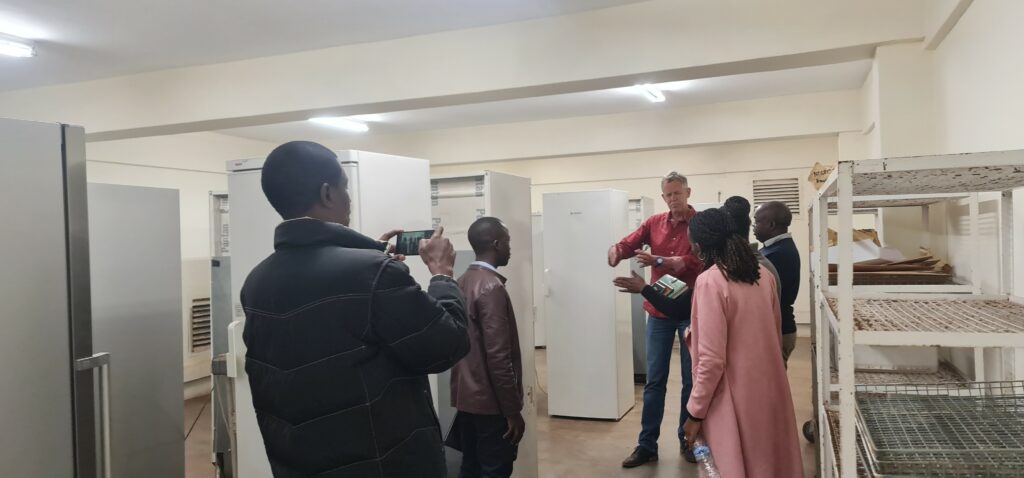 Lessons from the team on the exchange visit
There is need create business models around seed banks to make them sustainable. Including local authorities and the government in seed bank management committees also foster sustainable operations.
Strengthening partnerships and collaboration with the breeders and the National gene bank ensures easy access to services and breeding lines by farmers from the research institutions. These partnerships create and consolidate a strong sense of ownership: breeders will provide technical support more easily (PVS, PVD) to farmers and free breeding lines, while FFS will provide testing ground and labor to select varieties with their preferred traits.
Value addition for local foods plant and landrace should be promoted at the seed banks. Showing how these local food plants can be cooked and be attractive ingredients of a daily menu increases the appreciation as that knowledge has been lost by many.
Documentation of community seed banking activities in terms of having clear records for accessions, membership, sales, seed distribution, seed storage with clear labels is critical. Chomazuba CSB has kept and managed their records very well, which has ensured accountability and transparency.