By Angel Villavicencio, Saúl Povez (Fovida) and Ana Lucía Núñez (Oxfam in Peru)
Our native and local seeds guarantee the survival of species, represent the origin of agricultural productivity and are used in various ways, directly and indirectly, in human and animal nutrition. In addition, they constitute a source of raw material for obtaining products of wide industrial use and several others essential for the maintenance and improvement of the quality of human life; however, in the current General Seed Law No. 27262, native seeds belong to the informal sector, which excludes them from important markets, indicating them as of poor quality, such as, for example, the public sector.
What do we demand?
Native seeds, controlled by peasants, also the basis of agroecological production, do not respond to an economic price control, as they are freely available, unfortunately the regulatory framework pressures small producers to abandon their native seed system and adopt another system.
In this sense, from the National Native Seed Steering Group, which brings together unions from more than 14 regions of the country, we demand through the campaign "Our seeds, our identity", the amendment of the current General Seed Law No. 27262, to incorporate a chapter dedicated to native and local seeds.
That is why we invite the population to accompany the path of "Wall", a native seed with identity and join for the future with sovereignty to demand together the recognition of our native and local seeds, through the dissemination of the situation of seeds, as well as the proposals built from the agrarian organizations at national level. And to the competent entities, to commit themselves in this struggle and guarantee the modification of Law N° 27262.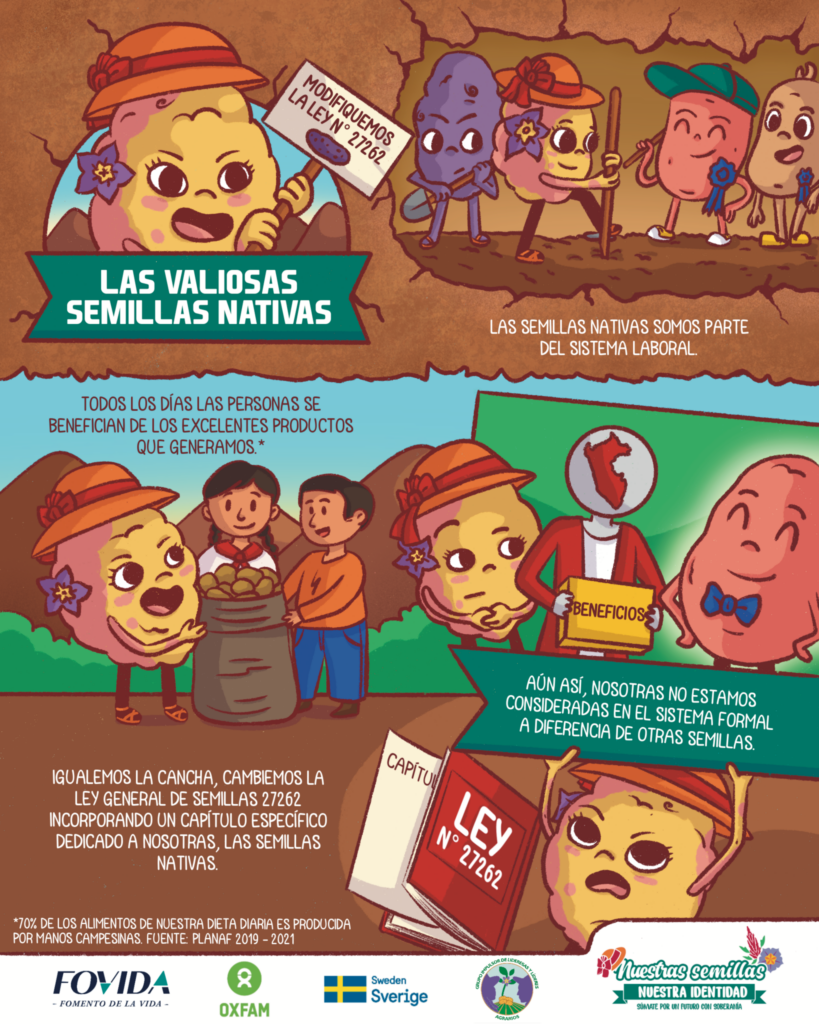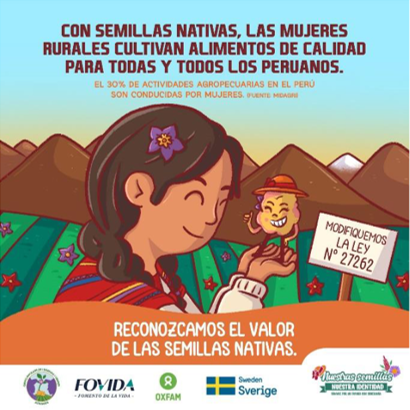 Flyers of the campaign for the modification of the General Seeds Law

Angel Villavicencio, FOVIDA Representative
Saúl Povez, FOVIDA
Ana Lucía Núñez, Food Justice Project Officer at Oxfam Peru