"It is one of the most interesting courses I ever took because it brought scholars and practitioners together and allowed them to interact with grassroots cases." –Yiching Song, Farmer Seed Network in China
This blog looks at the experience seven SD=HS colleagues who presented some of the case studied as ground for group work, to anchor the course into practice. See note at the end for more information.
In late January, over 30 participants from different continents came together for a unique course on "Smallholder engagement in Seed Systems". This marked the first time that practitioners were invited to be part of a postgraduate course. Equipped with case studies from their respective countries, they engaged with students and academics from various universities who were all focused on understanding seed systems and farmers' needs.
The course, which was developed in a consortium by the Wageningen University & Research, the Norwegian University of Life Sciences, the Production Ecology & Resource Conservation, and Oxfam Novib through its Sowing Diversity=Harvesting Security (SD=HS) program, aimed to contribute to a research and development practice agenda. It addressed research challenges and explored potential ways forward for the case studies.
"This was my dream-course, the one that I have wanted to organize since long time: a perfect mix of researchers and practitioners from all age groups and from all continents! I had not expected the energy and inspiration from the group to be so high, throughout the course. I think we have proven the possibility and value of mixing practitioners with researchers and make it a useful learning encounter for all. I am happy, as co-organizer and by the fact that I find that I am still learning. I truly hope this is the seed of something more to grow!" – Conny Almekinders, associate professor at Wageningen University and Research Centre and co-organizer of the course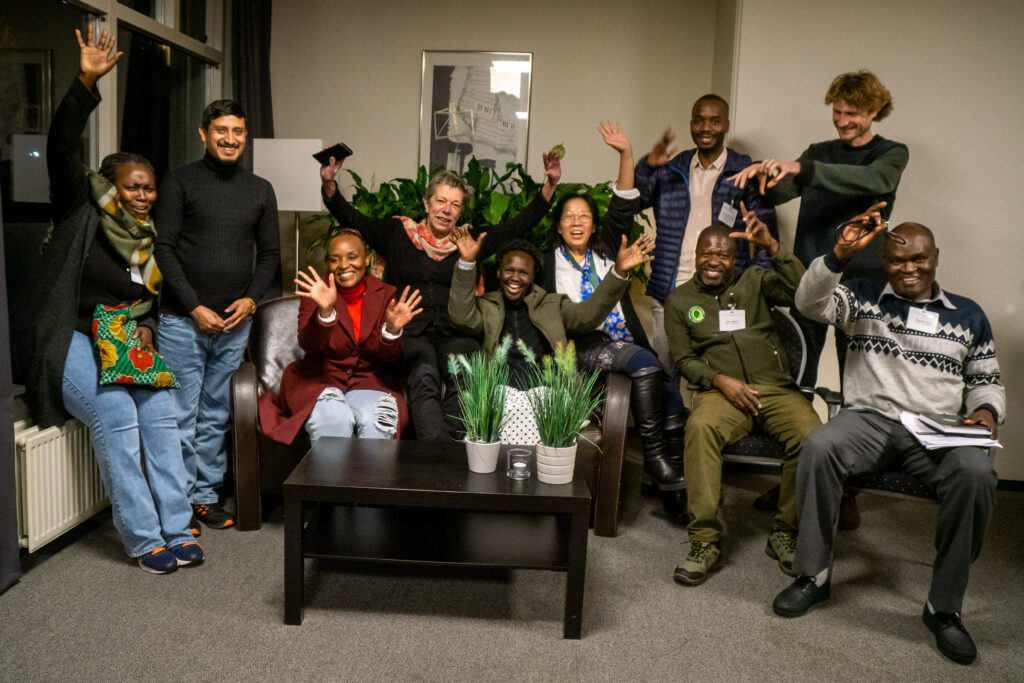 The world of academia and practice do not often meet, and this course provided a valuable opportunity to bridge that gap. The wall between practitioners and academics seemed to have lifted over the course of the week, and there was a palpable sense of excitement among the participants.
Jeko Manata of Zimbabwe, who initially felt intimidated by the academic participants and respected professors, soon gained confidence. As the week progressed, he realized that his work with Sowing Diversity=Harvesting Security was highly relevant and recognized by the group.
"It was a real opportunity for me as a practitioner working in Africa with farmers. It was an occasion to try and marry their theories and concept with our experience in practice and find where we can work together." – Jeko Manata, CTDT Zimbabwe
To ensure successful collaboration between practitioners and academics, it's important to demystify the world of academia and elevate the understanding and knowledge of practitioners on farmers' seed systems. The course provided a platform for practitioners to share their experiences and bridge the rift between theory and practice.
"I hope that the scientists will look beyond their work and remember that seed systems are embedded in so much complexity. It is not a straight-line activity, they must think in the broader context of what a seed system should deliver." – Juliet Nangamba Luo, CTDT Zambia
The unique nature of the course gave space and encouraged exchange between practitioners and academics for a whole week on a range of topics and cases. Both groups learned from each other, not the least by being exposed to different experiences. Practitioners received valuable input on the case studies, and some will re-evaluate and adapt research methods using the strength of theory. Academics were challenged by the complexity of reality through the cases, and the varying experiences of the practitioners, realizing some theories might be too simplistic when applied in practice.
"If you do something alone without exposing it to others you think you are doing it correctly but the moment someone analyzes your work you may realize there are some gaps." – John Tigere, CTDT Zimbabwe
In conclusion, such exchanges are invaluable. The 31 participants are now back in their respective countries, taking what they learned back to their colleagues and organizations. Each building their part of the bridge. All of the SD=HS participants hope for a continuation of this exchange, which will lead to greater collaboration and the sharing of ideas between practitioners and academics.
"I think this is a fantastic group of people, with so much experience and so many different viewpoints. It is precisely this diversity we need to counterbalance the current narrow approaches to seeds and seed systems. I really hope we can create a home for this group to continue exchanging" – Frederik van Oudenhaven, Seeds Specialist for SD=HS program at Oxfam Novib
–
Note: Each of the participant from SD=HS shared their reflections on the course, they are Anna Sofia Asingo from Community Integrated Development Initiatives (CIDI) and PELUM of Uganda, Juliet Nangamba Luo and Joseph Mwitumwa from Community Technology Development Trust Zambia, Jeko Manata and John Tigere of Community Technology Development Trust Zimbabwe, K.C. Sahadev from the LI-BIRD in Nepal, and Yiching Song from the Chinese Farmers' Seed Network.
A short overview of the cases presented SD=HS colleagues.