Rajendra Dhakal
In Nepal, women make up for 60% of the participants of the SD=HS project. Especially in Farmers Field School (FFS), women participants account for 75% of participants. This is encouraging as SD=HS prioritizes women's participation in all activities and in leadership positions within FFS, community seed banks, and farmer's seed enterprises. However, if we look beyond the number, do we know how meaningful women participation really is? This blog takes us through the experience of Nepalese FFS in answering this question.
To increase the equality of men and women in FFS, the project organized two days "Gender Journey" workshops in two different locations. The objective of the workshop was to help FFS facilitators and farmers to reflect on gender issues and promote the equal participation and leadership of women and men in their FFS. Two separate workshops were organized where 50 master trainers (76% women) and facilitators participated. The curriculum for the workshop followed the Gender Journey Module, prepared by Oxfam Novib.
Both "Gender Journey" workshops began with participants stating one advantage and one disadvantage of their gender. We found that many women do not see unpaid care work as their disadvantage whereas men see it as their great advantage over women. To understand the current gender context at FFS, we moved into an exercise in which men and women were asked to agree and disagree on the different sentences regarding their FFS. Results showed all participants agreed that the capacity, role, and responsibility of both genders are equal within a FFS. Then we organized a "Gender Journey Walk", where participant took a step forward if they answered positively to the questions around accessibility of FFS. The results of this exercise changed the way we are looking at FFS. Since many women participate in the FFS, we assumed women's access to FFS was easy. However, the "Gender Journey Walk" proved us wrong: it showed that women stand far behind men in terms of access. Our FFS is not accessible to some groups of women, unpaid care work and social barrier were the major burden that restricted them to participate in the FFS. All groups of men have greater access to FFS.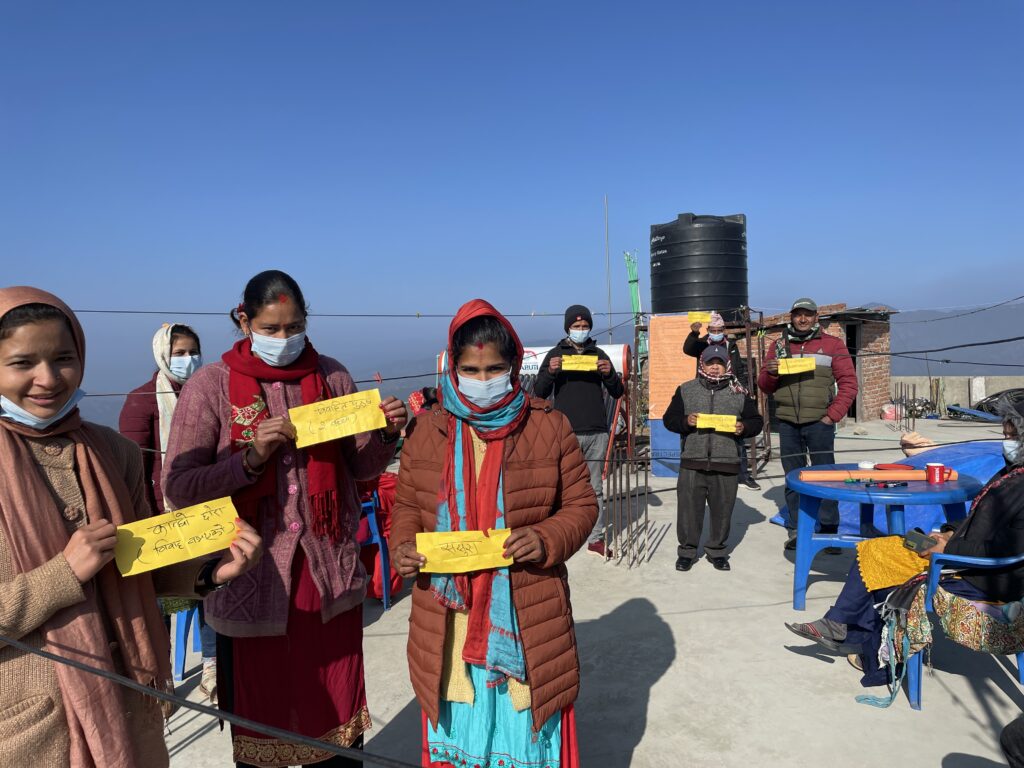 "I always thought that my FFS is accessible to all women. However, with the Gender Journey Walk exercise, I understand that my FFS is not able to accommodate many groups of women. I will try to make my FFS inclusive to all women – elder housewives, single mothers, and unmarried women"

Pabitra Deuba, FFS facilitator at Gayapdhura FFS
The group discussed how to make FFSs more inclusive, the project should carry out rapid care work analysis in the areas where FFS is going to be implemented. Women's unpaid care work needs to be represented, recognized, redistributed, and reduced. The FFS should be empowering women to do so. By recognizing FFS participants' care work burdens, FFSs should select venues, day, and time of FFS implementation that does not add up extra work to them. Likewise, the FFSs should sensitize men participants to share work at home with their wives. The groups also discussed using media to give recognition to women FFS participants. Women getting popularity in the community through FFS encourage other households to send their women to FFS. Moreover, the group added that, in order to increase male participants a proper induction of FFS needed to be done during the first village meeting, where all male and female members of a community should be invited. During the FFS group formation, priorities must be given to women, while not rejecting male participants.
After the "Gender Journey Walk", we used the diamond tool to formulate the gender action plan. In the diamond tool, we encouraged men and women to think about qualities they value in each gender, and how they would ideally want to relate to and interact with each other to ensure a successful FFS season. This exercise helped the FFS members to collectively agree on criteria for leaders and can motivate individuals to take on leadership roles in the FFS or their community. The exercise informed the development of gender action plans, as the valued qualities become the goals that members seek to change.
Both men and women believe that they have equal strength and qualities. Both believed that they have patience, are friendly, understanding, and tolerant. However, women agreed that men were more confident and vocal, because, in the FFS men have more knowledge on subject matter than women. The reason behind this is that men often have a formal education degree, while women rarely do. The conclusion was that FFS needs to design groups where there is an equal number of educated and non-educated participants, the mixed subgroups in the FFS should include different races, caste, education, and economical status. Facilitators must give priority to women who speak less to become subgroups leaders and must take their feedback into account.
At end of the workshop, the participants set gender traits for the FFS:
1. Equality – all men, women, different cast, religions, can participate and contribute to the FFS without any hesitation.
2. Friendliness – the FFS should be friendly to all gender (time-wise, location-wise, work distribution-wise).
3. Trustworthy environment – safe to participate and safe for us.
4. Discipline – Each member is interested and supportive.
"Actually we are already trying to build FFS with all these traits. All these traits are very essential. However, we were never able to implement these in the FFS. From today's workshop, we understand where we are lacking. I will go back to my FFS groups and will implement journey tools to develop exemplary FFS in Nepal".
Pabitra Sijali, FFS facilitator at Gayapdhura FFS
The participants were committed to making their FFS follow all the above traits. In the coming FFS session, facilitators will be working with their respective groups to prepare their gender action plan to create FFS with gender traits. The FFS will implement its gender action plan, for the first time in Nepal. The challenges to implementing this plan will be recorded and discussed within the FFS, as well as with the national team and solutions to the challenges will be searched and provided. Likewise, evaluation of the "Gender Journey" will be done at the FFS level and national level. Finally, reporting will be done at three-level, at FFS level, national level, and global level.