Two years into its second phase, the SD=HS programme is undergoing a mid-term evaluation. While the final report presents a comprehensive overview of our work and of the results seen, we wish to share a few highlights based on stories collected by partners and evaluators.
The mid-term evaluation review assessed the extent to which activities have contributed to the objectives of the programme, identify lessons learned and deliver recommendations on the future of the programme. The evaluator team, lead by Eva Otero y Itziar Gomez from Leitmotiv, used Sprockler as a methodology and platform to collect, process, analyze and visualize data (more on this below). The evaluation team, assisted by the SD=HS team in each country, collected and analyzed a total of 342 stories from every country but China. What follows are a few general impressions from a new team member on who benefits, changes SD=HS brings and the sustainability of the programme.
Who does the programme benefit?
Does the SD=HS programme benefit women?
The answer is yes. In total, 56% of the stories gathered are from women, many of whom take leadership roles within the different Farmer Field Schools (FFs). This is a result of a conscious and clear methodology targeting women and encouraging them to participate. There can always be improvements, and this must remain a key objective of the programme going forward. The Gender Module is a good example of a guide which can help facilitators lead discussions on gender roles. It outlines steps to go beyond numbers and assess underlying barriers women may face. In the end, we must also ask ourselves how do women benefit.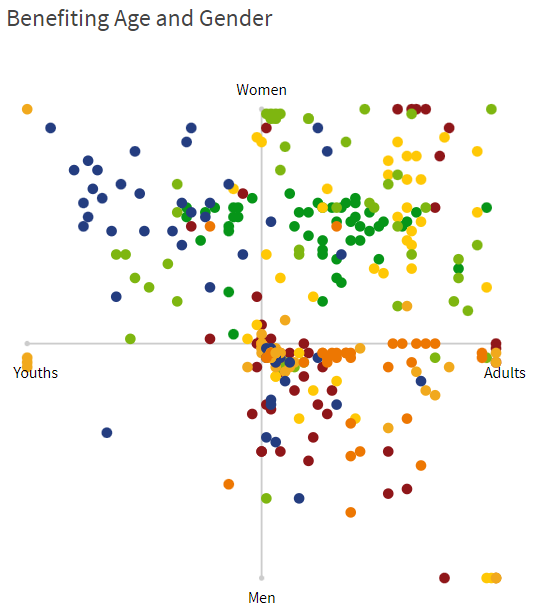 "Among all these learnings, my major learning is that I am able to speak in the larger forum. Before joining the FFS, I felt very shy while speaking in the larger forum but after having the weekly practice in the FFS, I am able to speak, not only in FFS. I can confidently share my ideas and feeling openly without any hesitation. This FFS has really played an important role for my personal development."
Woman, 36 -50, farmer from Nepal
Does the SD=HS programme benefit youth?
Here the answer is not so straightforward. The difficulty of involving youth in agricultural activities is applicable worldwide, the SD=HS programme is no exception.
What jumps out from the data collected is the lack of young men among the programme participants. In total, stories from young people (16 to 35 years old) make up 21% of the total collected. Most notably, within this modest group, young men represent only 7% of the total participants while young women represent 14%. Clearly this is a point to be taken on when discussing the steps to take in the near future.
"In the group we are young people and adults, it has been a very nice experience because I have learned from the older people and the technical staff of the project. At home I have been teaching my father how to grow potatoes […] we applied the new techniques and produced higher yields this year. I am the young leader of the group, and I am motivating more women and young people to join the field school, as many young people are lazy or want to go to the USA because potato and corn production is not profitable."
Woman, 16-35, farmer from Guatemala
Overall, youth participation remains complicated, they must be offered different opportunities, such as commercialization and entrepreneurial activities. In conversations, we heard stories from Laos, where our partners indicated that young people are involved in marketing and communication roles using social media. For more specific stories from partners on involving women and youth, read our Annual Report 2020.
Does the SD=HS programme benefit indigenous people?
Yes, definitely. A total of 90% of respondents from Guatemala, Peru, and Zambia consider themselves indigenous. Reaching a high representation of indigenous people carries a certain weight, as they are too often excluded from the spaces where policies affecting them are discussed and agreed upon.
What changes does the SD=HS programme bring about?
SD=HS takes an integrated approach to reach its goal, and it focuses on four main themes: 1) crop diversity through participatory plant breeding; 2) farmer seed enterprises; 3) local food plants for nutrition; and 4) supportive policies.
An overwhelming 60% of the stories alluded to access to resources, such as seeds, tools, land, jobs. This is a positive sign, as this represents the first essential step in the programme. The FFS are the places where farmers enhance their capacity to access, use and improve plant genetic resources.
Building on these efforts, the programme follows the FFS approach to focus on more specific topics such as seed enterprises and the promotion of nutritious food plants. In total, 20% of the stories refer to improved production and/or market access to seeds of diverse crops, while 17% note an improved diet and a reduction in food scarcity periods by promoting neglected and underutilized species (NUS).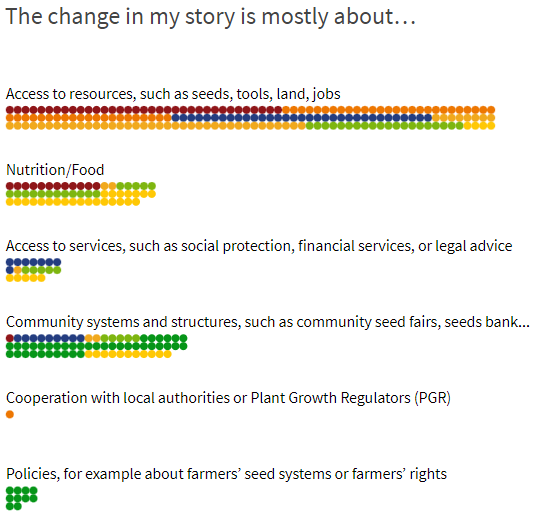 "When the FFS project came in 2020, and I became a member, a lot changed for me. I came to learn how to select best seeds and how to preserve them for planting in the next season. I have since become a reliable source of seeds in my community. Because plant a variety of food crops as advised by my FFS facilitator, I usually have sufficient seed, enough to eat, to save, and surplus to sell for income."
Men, 36 -50, farmer from Uganda
"I am an active member of a FFS, I started participating ever since the project started and have witnessed a number of changes which happened to my household livelihoods. These include social networking, income generation and savings, but the most important of all the changes I experienced in the journey is about nutrition and health of my family through crop diversification and NUS utilization."
Woman, 51-65, farmer from Zimbabwe
It did not come as a surprise that there were fewer stories directly mentioning the program's policy and advocacy efforts (only 3%). This work takes time, and happens in parallel with FFS implementation. In addition to technical knowledge, farmers must be able to have their voices heard in political spheres from local to global level. By the end of the SD=HS programme, we hope that governments adopt our FFS approach and for relevant policies to be adopted in each of the countries.
How sustainable is the programme's impact?
There are a few insights that show strong foundations for the sustainability of the impact the programme will achieve. The picture painted by all those who shared their stories is very positive.
"This project has represented an opportunity for the whole association, because we are working with new varieties, this involves new income possibilities, improvement of our family's nutrition and our own personal development. In addition to teaching us the technical side of management, the FFS has also strengthened teamwork, and despite the difficulties, we are moving forward, giving the best of ourselves. We will make the most of this opportunity because this project will open many doors for us, as women, as an association and as a community."
Woman, 51-65, indigenous and farmer from Peru
When asked who takes decisions about seeds, most respondents replied either "me & my family" or "other people in my community". In only a few cases the responses indicated that project representatives are the ones who make the decisions. Clearly, we must work to reduce these situations and ensure independence of all farmers.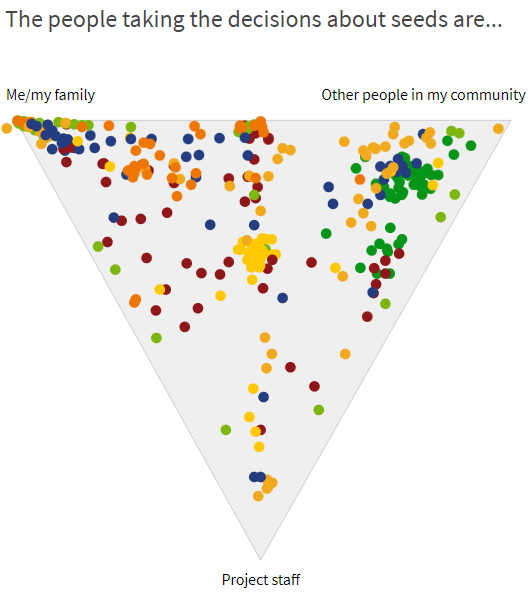 In general, most respondents indicated that the changes that are now taking place involve the entire community, all the time. Similarly, the vast majority ensured a high support for the changes brought by SD=HS. Finally, when asked about the (expected) longevity of the changes seen, most responses indicate that these are "most likely long-term".
A lot to be proud of
We heard from farmers and from partners, and both groups said that they find the SD=HS programme very relevant. It benefits the right groups, although we must work on the inclusion of youth specifically. The programme brings about appropriate and significant change to farmers and their communities. Finally, we gathered that the programme's impacts show promising sustainability. In 2022, the SD=HS team will build on these results, redouble our efforts on specific issues and encourage partners to share their lessons and ideas between them and beyond the programme ecosystem.
Sprockler methodology
The evaluation used Sprockler as its default method to reach primary stakeholders, in all countries but China. The evaluation team, assisted by the SD=HS team in each country, collected and analysed 342 stories. In all informants' responses, and particularly in these Sprockler's stories, there could be a degree of desirability bias that may have affected the tone of the responses.
Find our mid-term review visualization.
Feel free to reach out to Catalina von Hildebrand for more information: catalina.vonhildebrand@oxfamnovib.nl