By Lalita Ale, LI-BIRD and translated by Lok Pd Poudel, Oxfam in Nepal
Pahalman Chaudhary, a 41-year-old resident of Kailari Rural Municipality, Kailali District, Sudurpaschim Province, underwent a remarkable transformation in just two years. Contrary to the general notion that small landholding farmers cannot engage in seed production, Pahalman stands as a compelling example, demonstrating himself as a successful seed entrepreneur. His is the kind of story that asserts the importance of struggle and perseverance in life.
Pahalman would cultivate rice and wheat on the small land he owned, and the produce was only enough to feed his family of six. He did not have any other income to provide for the education of his son and daughter. He failed to meet his children's demands for clothes and delicious food during festivals. This would make him upset and unhappy.
A chance encounter with Lalita Ale, Technical Assistant at Local Initiatives for Biodiversity, Research and Development (LI-BIRD), a non-governmental organization working to improve the livelihoods of smallholder farmers, gave him the opportunity to learn about seed production and marketing through Farmer Field School (FFS) and Janabatawaran cooperative Kailari.
LI-BIRD is Oxfam in Nepal's partner organization involved in implementing the Sowing Diversity equals Harvesting Security (SD=HS) project. The project aims to improve food and nutrition security and resilience by enhancing the capacity of smallholders, women, and indigenous farmers to access, develop and market seeds of climate-resilient crops and varieties along with policy advocacy for strengthening farmers' seed systems and implementation of Farmers' Rights. It is implemented in four districts of Sudurpaschim Province – Dadeldhura, Doti, Kailali, and Kanchanpur.
Equipped with the necessary information from Lalita, Pahalman became a member of Farmer Field School two years ago, where he learned about seed production. He later went on to become a facilitator for seed production and marketing at FFS.
He attributes his newfound self-confidence to his involvement with FFS. He remembers how difficult it was for him to speak in public despite always nurturing a dream of becoming a good speaker. It was FFS that helped turn his dream into a reality.
"The various trainings I received at FFS helped improve my public speaking skills. Previously, I would get nervous and faced difficulty in articulating my ideas and opinions in public. I have also gained knowledge about quality seed production and marketing," shared Pahalman.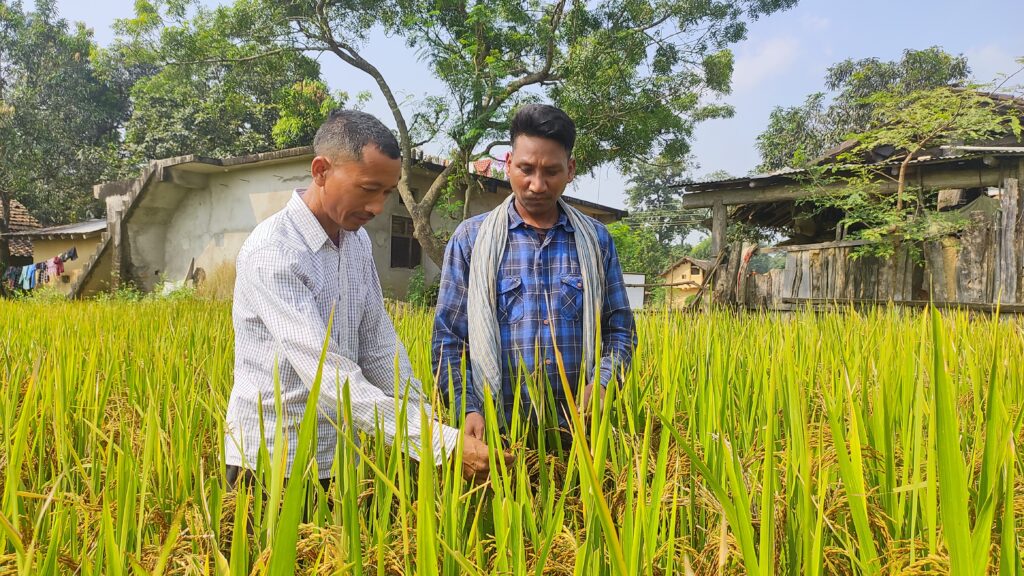 Pahalman Chaudhary orienting a fellow farmer to identify off-type rice panicles in the field
The project enhanced the knowledge and skills of FFS members and seed-producing farmers. Farmers learned about various techniques for producing quality seeds of rice and wheat, disease and pest management, seed storage, and subsidized machinery support like fertilizer spreaders, spray tanks, seed grading machines, and weedicide, which played a crucial role in seed production.
Describing the fertilizer spreader introduced by the project, Pahalman said, "It saves time, evenly distributes fertilizer, and has freed me from the discomfort of skin problems caused by manually spreading fertilizer."
Initially, Pahalman did not produce seeds as he was still learning and the land he owned was not adequate for seed production. Later he leased 2 bigha land and started rice and wheat seed production. He also became a member of Janabatawaran Multipurpose Cooperative after learning about it while working at FFS. Although the cooperative had been established and operational for many years, he was unaware of it. The cooperative purchases all the seeds produced by farmers like him.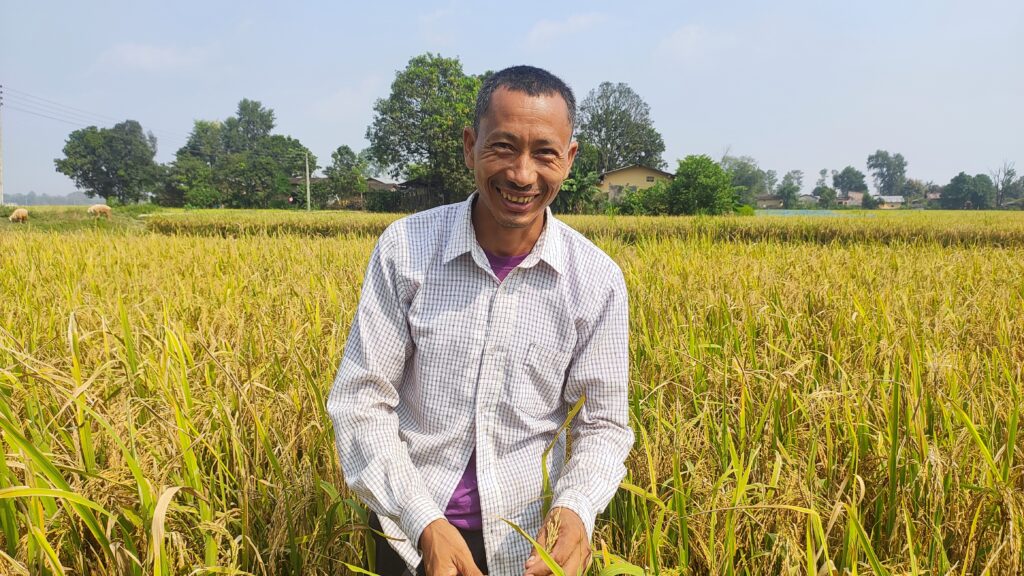 "In my first year, I sold 28 quintals of wheat seeds for NPR 196,000 and 22 quintals of rice seeds for NPR 46,200," claimed Pahalman excitedly.
He deposited part of his earnings at the cooperative while part of it was used to pay off the tractor installment, he had purchased a few months ago. He also indulged himself in getting a mobile phone, something he could not even have dreamed of.
Today, Pahalman serves as a leader farmer in his community; he advises and has inspired many farmers around him. He was nominated as Vice-Secretary at the cooperative and was also awarded Best Seed-Producing Farmer at the cooperative's 10th General Assembly this year.
Pahalman has shared his commitment to continue seed production and further improve his skills. He claims that just as a healthy body allows room for creativity, healthy seeds lead to higher yields and provide nutritious food. He regrets not having started earlier but emphasizes his desire to pass on his knowledge and experience to young farmers and inspire them to get involved in the agriculture business.