By Lok Pd Poudel, Technical Coordinator, Oxfam Nepal
The Progressive Seed Producer's Farmer's Field School in Jorayal Gaupalika Ward No. 2, Budar Doti, was established three years ago with the active participation of 33 dedicated women members. The school's primary focus has been on Participatory Plant Varietal Enhancement (PVE) practices, especially for the local wheat variety, Seto Dabdi. Additionally, they have taken up the production of improved seeds for these local varieties, including Arun-3 maize. Despite the limited available land, the members have shown remarkable commitment, dedicating 1-2 ropani of land to seed production. Out of the 33 members, 21 are actively engaged in seed production, primarily working with small-scale plots ranging from 1-2 ropani (Ropani, is the term traditionally used for the measurement of land more especially in the hilly parts of Nepal which is equivalent to 5476 square feet or 508.74 square meters).
One of the significant challenges the farmers faced was the dwindling yield of the modern wheat variety, Swargadwari, which had historically performed well. However, a severe drought last year led to a substantial drop in production. Over the past two years, Swargadwari's yield has been consistently declining due to its poor drought tolerance. In response, the FFS members decided to harness their local wisdom by turning to the traditional variety, Seto Dabdi, passed down through generations. While historically characterized by lower yields, the FFS's dedicated effort in varietal trait improvement transformed Seto Dabdi into a high-yielding and climate-resilient variety.
SDHS enhanced the capacity of farmers to select good parental traits with the best characteristics as decided by FFS for example good taste, high yield, disease pest resistance and climate resilience. They are imparted knowledge and skills to select panicles best on the afore-described characteristics. The selected seeds are multiplied as per their preference. Farmer continuously selects and plants the seed unless they get their preferred trait.
Mrs. Tikeshowri Rawal Malla, another FFS member, praised Seto Dabdi for its exceptional climate resilience, delightful taste, low fertilizer requirements, and minimal care and cultivation demands. Seto Dabdi emerged as the preferred choice over Swargadwari among the FFS members, and they began selling its seeds to the nearby Jaibikbibidhata cooperative. Recognizing the potential of Seto Dabdi, the cooperative eagerly purchased the seeds, offering them at reasonable rates to promote locally adapted and sustainable agriculture.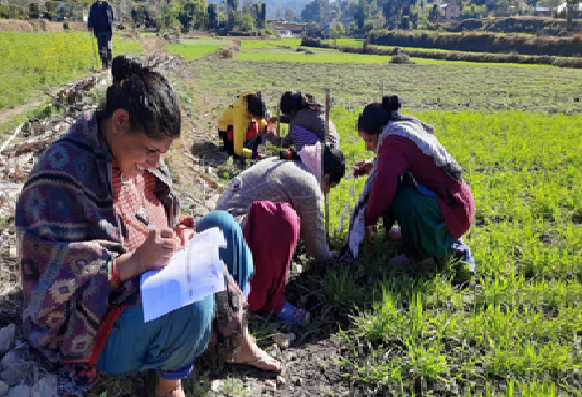 The impact of the Farmer's Field School on the community's agricultural practices has been transformative. Previously focused on growing crops for food consumption, the introduction of the FFS shifted their attention to seed production, which proved to be more profitable. Notably, they adopted organic and bio-fertilizers exclusively, avoiding chemical fertilizers and pesticides. Each household typically owns an ox and a few goats, with goat droppings being preferred for their higher nutrient content. The community has even started making bio-fertilizers using cow urine, water, local invasive plants, and animal dung, further reducing production costs.
Progressive Seed Producer's FFS members discussing
The Farmer's Field School's commitment to empowering women farmers, promoting climate-resilient crops like Seto Dabdi, and practising sustainable agriculture demonstrates their dedication to enhancing their community's well-being and agricultural practices.
(This write-up is based on discussions with FFS facilitators Shrada Malla and Puspa Malla, FFS members)